Editorial
Dear colleagues and friends,
The Communication and Outreach Workgroup is excited to present the first issue of BioNews.
Science is all about expanding the frontiers of knowledge and, in the process of doing so, finding out new ways of solving both old and emergent problems for the benefit of humanity. The following and necessary step is to communicate and share that knowledge. An interesting paradox in this age of mass media is that effective communication has not become easier. Immersed in an excessive amount of information, it is hard to sift between the important and the irrelevant and ensure that the target audience is reached. On the other hand, effective communication requires that the people involved actually speak the same language, which is most often not the case – it is quite impressive how easily our speech on a familiar topic can become so specialized that it isolates us from the rest of the world.
At BioISI, we also face this challenge on a daily basis. Our multidisciplinary approach to biological sciences – bringing together researchers from the fields of physics, chemistry, informatics and biology – and the wide range of our research topics, can make effective communication a limiting step in the pursuit of our aims.
COMMUNICATION is therefore central for the pursuit of our aims. COMMUNICATION between scientists working in the same field, so we keep abreast of each other's advances and discoveries; COMMUNICATION between scientists working in different areas and with different backgrounds, so we can gain mutual understanding of how each specific knowhow can provide insights and tools to more efficiently tackle a specific problem; COMMUNICATION with society at large, so the efforts, benefits and knowledge derived from our research, and the identification of the pressing, real-world problems that need to be solved, become a clear and integral parts of a shared culture.
This is our very ambitious aim: to effectively communicate BioISI's Science and the people who make it happen, within and beyond the walls of our laboratories, bridging the gap across disciplinary boundaries and reaching all the relevant players in the collective pursuit of scientific knowledge. But communication is a two-way street: although we can be the vehicle that facilitates the process, we rely on you to share with us your discoveries, successes, ideas, interests and questions. We hope you will join us in this challenge, as a vital and active element.
We would like to heartfully thank all of you who have already joined us on this journey, contributing your time to organize public events, write journal articles, give media interviews, host school visits; and in particular to the colleagues who contributed directly to the very first issue of BioNews.
We welcome all of you to a productive partnership for an effective SCIENCE COMMUNICATION and hope to see you in our future activities and events.
The BioISI Communication and Outreach Workgroup
Coordinator: Margarida Gama-Carvalho
Team: Andreia Reis and Filipa Tomé
Get in touch with us: BioISICom@fc.ul.pt
We are proud to present our institutional video
Profile
.
Get to know Luka Clarke, Senior Researcher, Functional Genomics and Proteostasis Group
.
What is your greatest fear in science?
I worry that scientific evidence or even science itself might be discarded by a political class that seems to find the truth relative or inconvenient.
Which living scientist do you most admire?
I have a sneaking admiration for three scientists and friends with whom I did my PhD in London back in the 1990s, who have all become stars in their respective fields. They are Paul Riley (Oxford), who has shown that thymosin beta 4 might be used to repair damaged heart tissue, Rob Lucas (Manchester), who helped to discover melanopsin, a photoreceptor in the mammalian eye used for photoentrainment, and David Bainbridge (Cambridge), a writer of intelligent and witty popular science books. I automatically admire any scientist who can make a complex subject clear and exciting.
Which words or phrases do you most overuse?
"I'll do it tomorrow."
What do you consider your greatest achievement in science?
Every step, however small, feels like a great achievement at the time, especially when a paper finally comes out, but of course "great" is usually an exaggeration. I spent several years working on the transcriptome in nasal epithelial cells of Cystic Fibrosis (CF) patients, and then a meta-analysis of the transcriptome of cystic fibrosis (CF) and several other respiratory disorders. The large amount of data generated from these studies has become a resource to others and it is gratifying to see clues from my work being followed up, with some of the leads we generated at the time being confirmed. I'm also proud of my first ever paper, which came out of my undergraduate zoology project. It showed that bill-wiping in starlings is used to maintain the shape of the beak: the abrasion they receive by wiping on rough branches keeps the beak in an optimal shape for picking up food effectively. Nobody knew that before – bill-wiping was said at the time to be a "displacement activity" with no functional component. It's a nice feeling having contributed to such different fields within biology. I hope there are more and greater achievements to come.
Which science figure do you most identify with?
Scientists are also people with families and a home life, and sometimes conditions are not so easy, so I choose Johannes Kepler, the German astronomer famous for his laws of planetary motion. While he was single-handedly attempting to explain the proportions of the natural world and laying the ground for Newtonian physics, he also had to deal with smallpox decimating his family, excommunication from the Lutheran church (for his belief that the moon was solid), having his works burnt in public and his mother put on trial for witchcraft, and on top of that Galileo didn't answer his correspondence and his salary as Imperial Mathematicus was five months late.
What are the main projects you've worked on? Are you currently working on any in particular? If so, which one?
In my current field of Cystic Fibrosis research, I have worked on several projects in which the main theme was personalized medicine. Most recently I have been working on projects funded by the North American CF Foundation. One of these has investigated the effect of premature stop codon (PTC) mutations in the CF gene (CFTR) on the abundance of messenger RNA in the cell. PTCs lead to rapid degradation of the message by a process known as nonsense mediated decay (NMD). We have studied whether this varies from mutation to mutation, or between patients with the same mutations. Such information might then be used for designing therapeutic approaches based on the effect of a particular genotype, or even in one particular patient. For a molecular biologist, the possibility that one's work might have a positive impact on somebody's life is a great motivation, and I am very grateful to have been given the chance to work in this area.
News highlight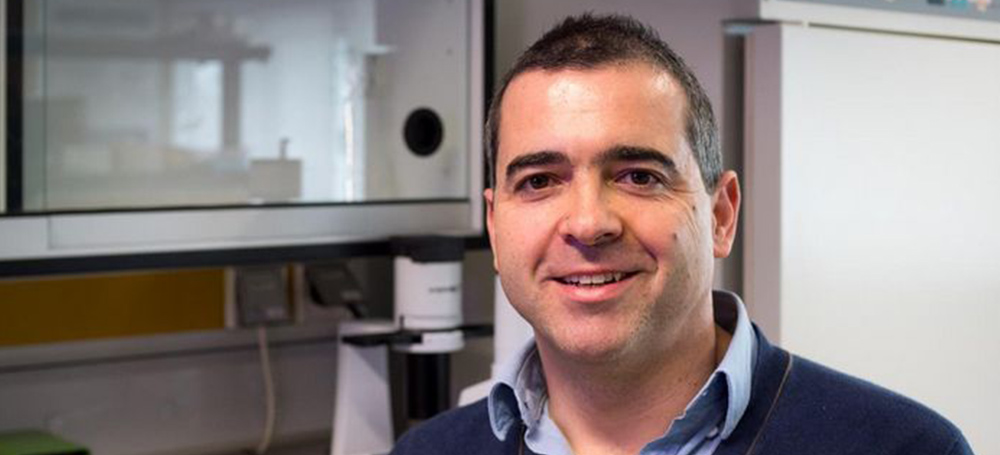 An international team led by BioISI researcher Cláudio M. Gomes has made an important contribution to Alzheimer's research
An international team led by BioISI researcher Cláudio M. Gomes has unveiled a new biochemical mechanism in brain cells that slows down the formation of deposits of amyloid-beta, a toxic protein that aggregates in the brain contributing to Alzheimer's disease.
The discovery, published last June in the scientific journal Science Advances from the American Association for the Advancement of Science, reveals that an inflammatory protein produced in the brain as response to nerve cell damage has a new anti-aggregation function and may be the first line of defense in the suppression of amyloid aggregate formation.
'When the S100B protein interacts with amyloid-beta, it causes a delay in the process leading to the formation of senile plaques, which are responsible for the development of dementia. In cell culture studies, we observed that the S100B protein reverses toxicity induced by amyloid-beta, which reinforces this new role in anti-aggregation defense', explains Joana Cristóvão, PhD student and first author of the study.
According to the coordinator of this research, Cláudio M. Gomes, 'the new function as regulator of protein aggregation that we now describe for S100B establishes a new link between two cellular processes that are profoundly affected in various neurodegenerative diseases: protein aggregation and neuroinflammation. Furthermore, this research uncovers new functions of the S100 alarmins that might be common among neurodegenerative pathologies in addition to Alzheimer's Disease, thus opening new perspectives on the possibility of future development of specific therapies for this target.'
This research was carried out in collaboration with researchers from Freiburg University (Germany), Technique University from Munich (Germany) and I3S Universidade do Porto. The study was funded by the Foundation for Science and Technology (FCT, Portugal), Bial Foundation (Portugal) and the Deutsche Forschungsgemeinschaft (Germany).
Cross-talk
We invited two researchers from BioISI for an informal talk about Science. Interview with Luís Correia and Andreia Figueiredo.
Did you know that...
'In Portugal there are about 300 native grapevine varietals and only about 30 of these are used for wine production. Promoting scientific research focusing on this biodiversity is key for the development of Portuguese viticulture and the production of high quality and unique wines.'
Get inspired with...
RESISTIR: detection, identification and timely control of bacterial infections in healthcare institutions
RESISTIR is a Portugal 2020 funded project coordinated by a FCUL multidisciplinary team from BioISI – BioSystems & Integrative Sciences Institute and LaSIGE – Large Scale Computer Systems Laboratory, and by Maxdata Software, S.A.. It started in April 2016 and aims at creating an innovative, intelligent, and modular information system to support medical decisions with respect to precision antibiotic therapies and infection control.
Antibiotic resistance is amongst the most dramatic problems worldwide. In the 40s, the large availability of penicillin and later discovery of streptomycin led to a drastic reduction of disease and death by infectious diseases. However, the microorganisms that cause infectious diseases have a remarkable ability to develop resistance to antimicrobials. This means that each time an antimicrobial is used, the growth of organisms that are resistant to its action is favored. The intensive use of antimicrobial drugs in the last decades has therefore resulted in the phenomenon of drug resistance that threatens to compromise the medical advances of the last half century. The problem is very serious: even if new antibiotics are developed, it is only a matter of time until bacteria develop resistance to its action. Therefore, a large part of the solution must be to monitor, prevent, and control infections.
The RESISTIR consortium is making a crucial contribution to this solution. Its main objective is to develop new methods to monitor infections in almost real time, thereby providing tools to support medical decisions and ultimately contributing to personalized antibiotic therapies – prescribe the most efficient antibiotic to each patient, at the best time.
"This project is an important step to solver the emergent and evolving challenges in the field of Infectious Diseases by the use of Systems Epidemiology in real time. RESISTIR is expected to change the present way of performing prevention and control of Infections and Resistance to Antimicrobials, with significant impact on the health of the patients as well as on public health and economic impact for the healthcare institutions. ", says BioISI researcher Ricardo Dias.
RESISTIR collaborates directly with Hospitals to implement this approach: in September 2016, a cooperation agreement was signed between RESISTIR and the Lisbon North Hospital Center (Centro Hospitalar Lisboa Norte – CHLN), providing access to data on hospital activity with regards to diagnosis, infection spreading, and antibiotic resistance. In return, CHLN has near real-time updates on epidemiological status and receive technical and scientific information to support medical decisions.
Through the identification in near real-time of hospital and community origin outbreaks, the RESISTIR project will allow the control of healthcare-related infections and the reduction of costs associated with antimicrobial resistance.
Read more at: https://ciencias.ulisboa.pt/pt/tags/resistir
BioISI Outreach
2018 European Researchers' Night, September 28th
'Science in the City' was the theme chosen for the European Researchers' Night 2018, which aims to bring citizens closer to science and researchers. The European Researchers' Night is an initiative promoted by the European Commission under the Marie Skłodowska Curie actions and takes place in more than 300 European cities simultaneously.
This year's edition aimed at responding to one of the main concerns of urban societies: the impact of global changes in climate and population that we will be facing in the upcoming decades, showing how science is fundamental to ensure the quality of life in the cities of the future, while contributing to preserve their cultural heritage.
In Portugal, this initiative took place in several cities – Lisbon, Évora, Braga, Coimbra, Monsaraz, São Miguel and Funchal, coordinated by the National Museum of Natural History and Science of the University of Lisbon (MUHNAC-ULisboa).
In Lisbon, the event took place in the neighbourhood of Bairro Alto, spread between the Museum building and the Príncipe Real Garden. Here, among 70 other participating research institutions BioISI was well represented by researchers from the Plant Functional Genomics (PFG), Agents and Systems Modelling (MAS) and Chemistry for Biological Systems (CBS) groups. The activities presented by our researchers allowed participants to have a fresh look at the city of the future, showcasing how BioISI science can contribute to their daily lives. The activity prepared by the PFG group disclosed how urban vineyards are being used as a way to promote sustainability in the cities, emphasizing the importance of preserving vineyards and wine production as part of our cultural heritage. Visitors were further introduced to surprising aspects of the past of our cities and their cultural heritage through Virtual Reality and Augmented Reality systems developed by MAS researchers, while learning how the research of the CBS group can contribute to the future of our cities through the control of the impact of CO2 pollution. The hands-on experiments performed on site showed how Chemistry can provide efficient solutions, not only for capturing this gas from the atmosphere, but also for converting it into other useful products with multiple applications.
BioISI Outreach
Wine and Science Event – November 20th
BioISI promoted the Wine and Science event at FCUL on November 20th within the scope of the Science and Technology week.  The Science and Technology week represents a key moment for the 'social appropriation of science'* during which Research Institutes, Universities, Science Centers and Museums promote all sorts of activities in association with local communities, becoming collectively engaged in a yearly balance and reflection on the role of knowledge in the future of society.
This event brought together several BioISI researchers and the ecosystems manager from the wine company Esporão that presented their works focusing on knowledge driven sustainable viticulture practices from the plant to the final product, the wine.  Presentations were followed by wine tasting, where the participants were able to enjoy organic wines from Quinta dos Murças, at Douro. These wines were produced through integrated protection and sustainable practices that promote ecosystem balance. Also, for each wine, scientific information was presented allowing a full sensorial and knowledge experience. 
Thank you to all the participants that joined us in the discussions and the tasting. We look forward to welcoming you soon in more events to discover our contributions to sustainable wine production!
If you want to know more about the work developed at BioISI on this thematic, please contact BioISICom@fc.ul.pt.
*José Mariano Gago, Minister for Science and Technology, in 'Pedra Filosofal – Rómulo de Carvalho/António Gedeão', ed. Associação de Apoio ao Museus de Ciência da Universidade de Lisboa, Lisboa 2001
Get in touch with us at BioISICom@fc.ul.pt